---
Do you have news to share? Equipment to sell? A job posting?
Let us know!

---
In Memory of John Eberhard Executive Director of Delaware Opportunities



1947-2018
---
---
2018-2018 NYS Multi-Program Bulk Purchasing Solicitation
The New York State Weatherization Directors Association (NYSWDA) is pleased to announce that we are now soliciting bids for energy conservation and health and safety materials to be used in multiple programs throughout NYS. The results of the bid will be eligible for use by New York State Homes and Community Renewals' (NYSHCR) Weatherization Assistance Program statewide, any and/or all New York State Energy Research and Development Authorities' (NYSERDA) low income residential programs. Pricing established by this program is effective April 1, 2018 thru March 31, 2019.
The general categories and a brief description of the items included in our bid are as follows:
Baseload: aerators & showerheads, radiator valves

Air Infiltration: caulk, one & two component foam, weather stripping, air conditioning covers, hot water tank covers, pipe wrap, recessed light covers, attic hatch insulation

LED Lamps

Detectors & Alarms: smoke detectors, carbon monoxide alarms & combination

Insulation: batt or roll and blown insulation

Health & Safety: masks, cartridges, safety glasses, Tyvek suits, poly, tape, etc.

Standard Windows: all styles and sizes

R-5 Windows: all styles and sizes

Mobile Homes: furnaces, accessories, doors, windows, belly patch fabric, etc.

ASHRAE 62.2 products: vents and controls
The key information regarding this year's bid is contained in the attachment entitled "Important Bidding Notes". We are using BidSync as our electronic web based software program. Attached to this email you will find the instruction sheet entitled "How to Place an Offer". These directions will walk you through becoming a BidSync user as well as progressing through the screens to submit your bid. In addition, the bid package, specification sheets, and other required documents are located within the bid and should be downloaded for your use. Even if you have already bid in previous years, please take the time to read them again.
All questions must be submitted and received in writing no later than February 16th, 2018. Please return all required materials by the deadline of February 22nd, 2018 at 3:30pm. The public bid opening will take place at our Guilderland location on February 23rd, 2018 at 11:00am.
As many of our organizations continue to be faced with significant budget cuts, the role of our procurement program within weatherization is now more important than ever. We look forward to continuing to work with our established vendors and welcome new ones as we build on the success of our program.
If you have a question regarding the bid process or specific questions about BidSync, please email This email address is being protected from spambots. You need JavaScript enabled to view it..
---
AEA Equipment Bid Input
To ensure that the 2018 New York State Equipment Bid is updated and current, AEA is seeking your input. With the technological advancements in our industry, AEA wants to ensure that the bid document provides the most up-to-date equipment to better serve the needs of the participants. Please review the 2017 New York State Equipment Bid Document and provide any suggestions you may have to replace any antiquated, obsolete, or soon to be retired items with updated equipment.
AEA's asking that prospective bidders and users return their suggestions to:
This email address is being protected from spambots. You need JavaScript enabled to view it. by Friday February 16th, 2018.
---
Warm Up to Winter Water and Energy Savings
This winter, whether you call a house, apartment, or condo "home," kitchens and laundry rooms are a great place to start saving water, as well as the energy needed to heat that water. In addition to fixture and appliance retrofits, simple behavior changes can help save water used for washing clothes, cleaning dishes, and cooking during the colder months. These tips will help you melt away high utility costs and give water and energy waste the cold shoulder.
In the Laundry Room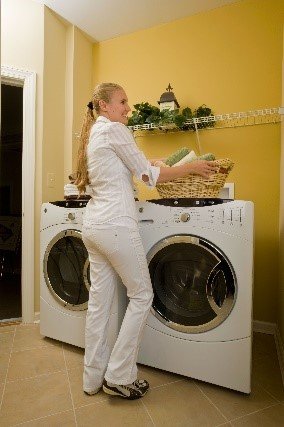 Did you know that hot water heating accounts for about 90 percent of the energy your washing machine uses to wash clothes? Start your laundry list of savings with these tips:
Set your washing machine to use cold water, rather than hot or warm water. This can save the average household more than $40 (with an electric water heater) or $30 (with a gas water heater) each year.

Wash only full loads of laundry in your washing machine, which can save more than 3,400 gallons of water annually.

Set your washing machine's water levels and load size appropriately for the amount of laundry you are washing.
In the Kitchen
Whether you are cooking for guests or cleaning up after, you can find ways to save everywhere, including the kitchen sink:
Before loading pots, pans, and plates into the dishwasher, scrape instead of rinsing them. Modern dishwashers can thoroughly clean dishes that have had food scraped off—the wash cycle and detergent will take care of the rest.

Run the dishwasher only when full, and air-dry wet dishes when possible.

If you do not have a dishwasher, fill the sink with a few gallons of soapy wash water, clean your dishes, and set them aside. Then, rinse them all together afterward. By not washing and rinsing each dish individually, you could save 10 gallons of water.
Learn more about saving water and energy at home.
---
---
National Weatherization Day - October 30th 2017
WAP agencies were invited to share their events and or photos with us, scroll down to see how they celebrated National Weatherization Day!
Community Action of Greene County, Inc.

Every Friday in October, Community Action of Greene County, Inc. (CAGC) set up in different towns within the county. Flyers were placed in the Bank of Greene county's resident accounts statements for October and in the Dailey Mail Weekend Edition. CAGC was also promoted on their local Public Broadcasting TV network.




Northwest Bronx Community and Clergy Coalition

The Northwest Bronx Community and Clergy Coalition conducted a Bronxtober Resource Fest on October 28th which included a free resource fair for their community.





Click the link to check our their blog: https://unhp.org/blog/big-bronx-turnout-for-unhp-bronxtober-resource-fest

Association for Energy Affordability, Inc.

AEA held a NYC Weatherization Forum. Their topic was "Learn How the Weatherization Program (WAP) Helps Eligible Residential Buildings Save with Energy Efficiency Upgrades." Click on the link to check out their blog: http://aea.us.org/blog/aea-newswire/making-weatherization-connections-nyc-wap-forum/

Community Development Corp. of Long Island, Inc.

CDC of LI shared photos of their National Weatherization Day Event!


Commission on Economic Opportunity

CEO shared a video regarding their weatherization program. Click on the link to view: https://youtu.be/XdVsXngViLc
---

Visit our Facebook page to view photos and highlights from the NYSCAA/NYSWDA June 2017 Professional Conference.

Looking for a job? Click on our Job Openings page.

---